This shop has been compensated by Collective Bias, Inc. and its advertiser. All opinions are mine alone. #GoldfishGameTime #CollectiveBias


The longest winter is almost over. Springtime is finally in our sights! We have been doing indoor game nights to escape the cold. Spring means our Pepperidge Farm® Goldfish® cracker shuffleboard game is heading outside soon! The fun and easy game came to me while at Walmart this weekend.


I ran out to Walmart to grab the usual springtime goodies. I grabbed sidewalk chalk and kites, then swung by the food department for snacks. While there I spotted Pepperidge Farm® Goldfish® crackers 30 oz. cartons on rollback for $6.46 in store only. It reminded me of my middle son's first time building a snowman. The snowman had grape eyes, a carrot nose, and a crooked Goldfish cracker smile. The fun quickly escalated from "Let's build a snowman" to "Let's eat the snowman".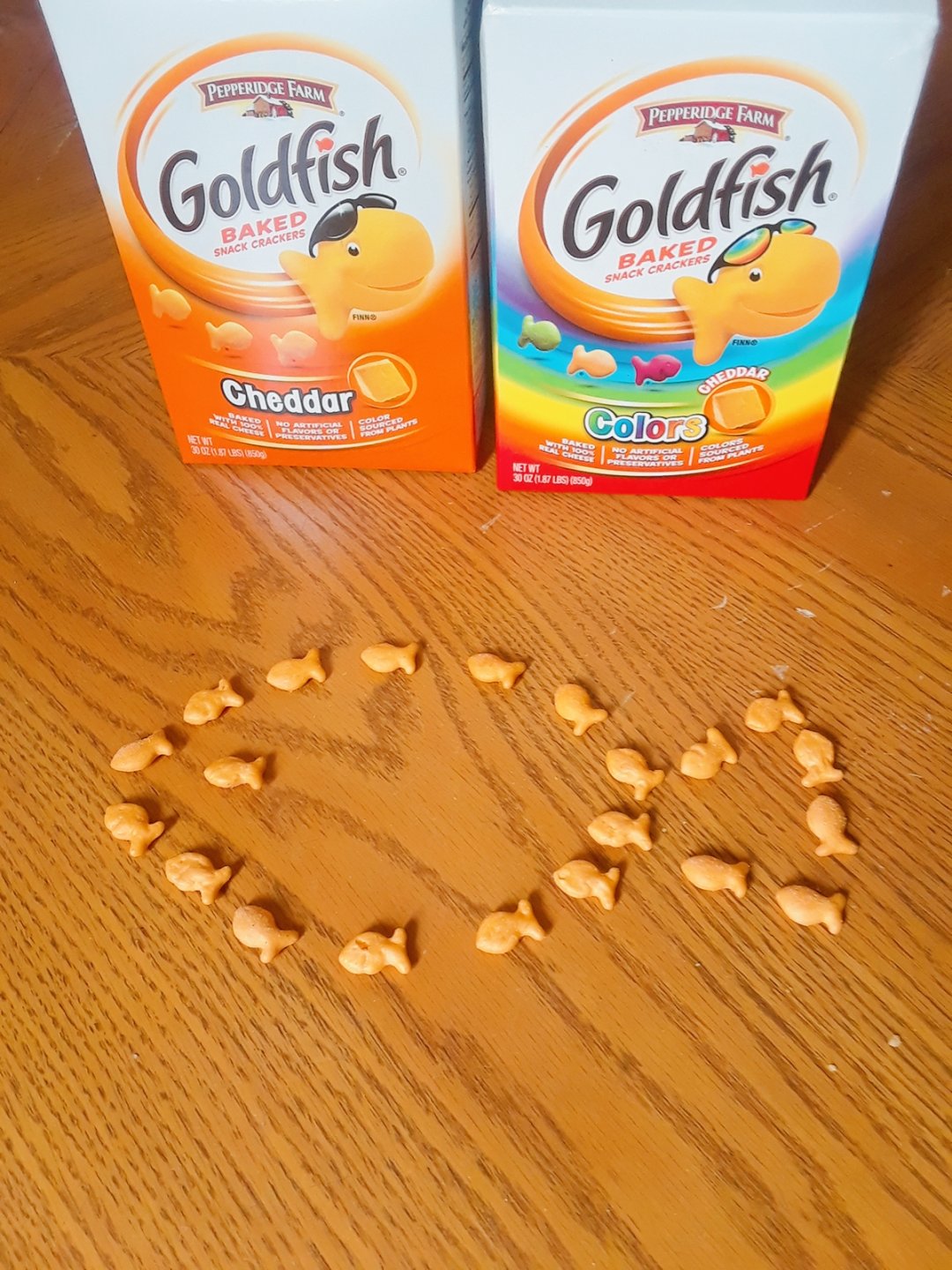 Hover over the image above to purchase. Please click the picture to purchase. Goldfish crackers.


That amusing memory gave me another fun and easy idea to use the Goldfish crackers for. I could make a portable Goldfish cracker shuffleboard game! Portable means we can play outside when the weather is nice, or play inside when the spring showers are coming down. Using the Goldfish crackers as the discs does not only mean we could eat the game pieces when through. Even we are unable to misplace edible game pieces. There are always Goldfish crackers around our house so the game piece supply is never ending!


After grabbing my two 30 ounce cartons of Goldfish crackers (so the different players would have different looking Goldfish crackers), I swung by the craft section for a blank canvas and a few markers to make the actual board for Goldfish cracker shuffleboard. I say that like I wasn't going to cruise through the craft supply aisle anyway, but we can pretend I wasn't plotting on crafting when I went to the store.

The game board only took maybe three minutes to create. The canvas I bought was 11 by 14 inches. I set it so the 14 inches was vertical, and drew three black lines 2 inches apart from one edge of the canvas. Next I flipped the canvas so the lines were facing away from me to write in the point values (three, two, one), and the board was done!


You can have as many players as you have different Goldfish crackers, so if you have more than 2 players I suggest getting Pepperidge Farm® Goldfish® Colors. Each player gets four Goldfish crackers in the player's chosen color and takes turns trying to get their Goldfish crackers as far down the board as possible by giving it a big whoosh of breath through a straw to propel the Goldfish cracker.

The Goldfish crackers each equal a certain amount of points. Three points if in the three zone. Two points if in the two zone. One point in the one zone. No points if outside those zones. I suppose having points makes someone a winner and someone a loser in the game, but really, when you are eating Goldfish crackers and having fun nobody loses!
 
Check out this website for more game time fun!